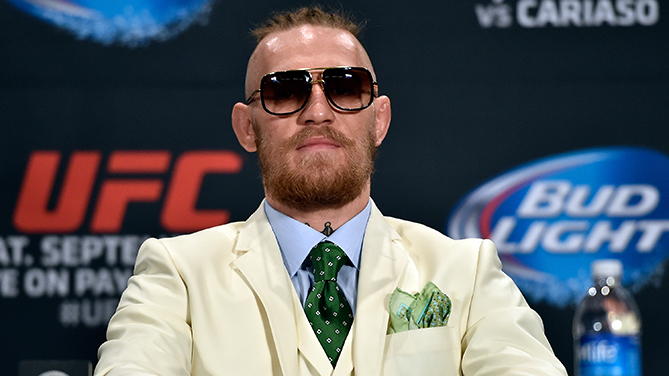 Following Irish sensation Conor McGregor's flawless performance at UFC 178, fans and media alike have been clamoring for news of what's next for "Notorious" now that he has cracked the Top 5 featherweight rankings.
If champion Jose Aldo is victorious at UFC 179 against Chad Mendes, UFC President Dana White said McGregor may be the logical new No. 1 contender.
"Here's the thing: If you go down the list, every one of those guys has fought Jose Aldo already," White told UFC.com in his weekly interview, referencing the top ranked featherweight fighters. "Conor hasn't. So who do you line up next for the champ other than Conor? Everybody else has fought him."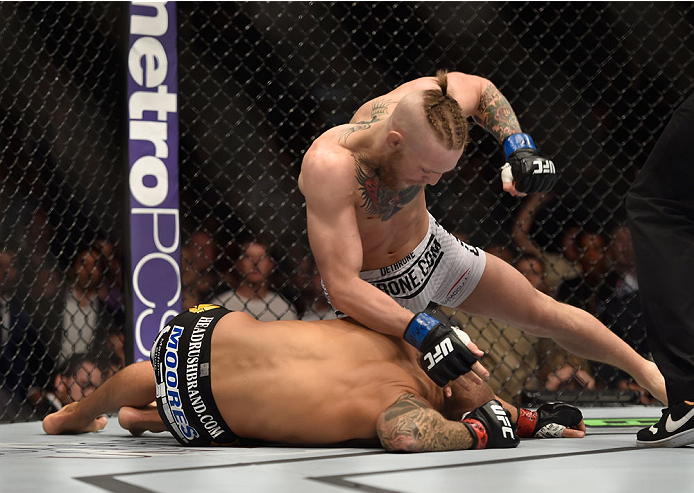 McGregor, being the competitor that he is, seems like he doesn't want to wait for the Aldo-Mendes winner, as he took to Twitter to announce his plans to fight Diego Sanchez at UFC 180.
White quickly shot down that fight a few hours later, but explained that McGregor is just eager to get back inside the Octagon.
"So Lorenzo (Fertitta) and I went to dinner with him last night, and he said he wants to fight Diego Sanchez in Mexico at 155. I said, 'You're nuts. No way, we'll get you a fight. You'll be fighting soon enough.' The kid just wants to fight," White said. "He said him and Diego have been talking back and forth for a while and he wanted to fight him. We basically told him no and he went out and put that on Twitter anyway."
In the latest development, it appears Norman Parke suffered an injury during training, forcing him out of his UFC 180 bout with Sanchez. While fans and media seemed ready to connect the dots to a possible McGregor-Sanchez showdown, White again confirmed to UFC.com that McGregor-Sanchez is not the plan.
While all eyes were on McGregor during UFC 178 fight week, Khabib Nurmagomedov made some headlines of his own when he continued his verbal assault on UFC lightweight champion Anthony Pettis.
Khabib is on the record saying a fight against Pettis would be easy money, questioning his takedown defense while lauding his own wrestling prowess. He went on to say that Pettis is a paper champion, and called him a pretty boy who doesn't want to fight a wrestler like Nurmagomedov.
White laughed when he heard the comments from Khabib.
"I love his confidence, but I actually think Anthony Pettis is one of the pound-for-pound best fighters in the world," he said. "You can't think like that – like you're really going to walk through the guy. If you look at the guys that Pettis has fought – When Pettis is healthy he's unbelievable."
On Ronda Rousey vs. Cat Zingano…
Now that we know Ronda Rousey will face arguably her toughest test to date in the Octagon, the next question is when.
White said a date hasn't been set yet, but the UFC is looking at January 2015 to stage the bout. He continued by saying how impressed he was with Cat Zingano's return performance at UFC 178.
"Ronda was cheering for her to win on Saturday night. She wants to fight Cat. Cat looked unbelievable," he said. "Cat was a little bummed out because she was out for a while and she had to come back and fight again. She had to remind people who she is and why she deserves this title shot, and she did it."
On Rory MacDonald and Gunnar Nelson…
Another UFC Saturday double header is set for this weekend and both main events are sure to entertain.
White started off in Halifax in this week's download, specifically talking about MacDonald.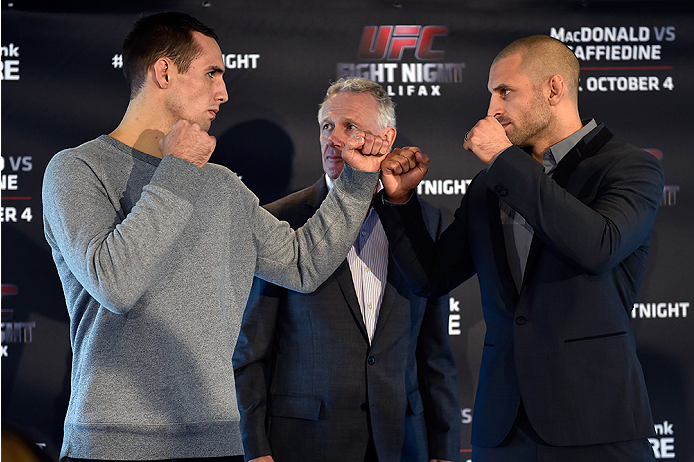 "It's a big fight," White said in reference to MacDonald vs. Tarec Saffiedine. "If Rory loses to the number nine ranked guy in the world, it's going to be a really big setback. Think about this: everybody was talking about MacDonald being the next [Georges St-Pierre] and getting in there and winning that title. Well, GSP has been gone now for a while and this is his opportunity to get in there and he's got to win on Saturday night. I'm no fool. I know how good Saffiedine is."
White said Saffiedine is better than his ranking indicates.
"The kid is really talented. He's good at staying on the outside and chopping those legs," White said. "I expect him to stay on the outside, use his hands and obviously Rory is going to try and take him down, put him up against the fence, and beat him up on the ground."
As far as Gunnar Nelson vs. Rick Story, White is expecting another great fight.
"Rick Story is a beast and he's one of those guys that always comes to fight," he said. "He's a good wrestler; he has great hands and can knock you out. This is Gunnar's first real big test."