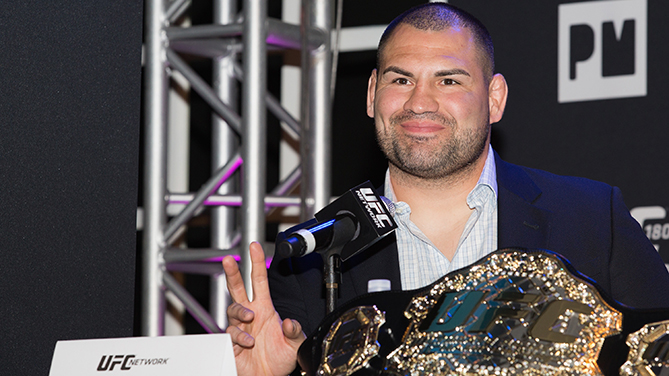 Cain Velasquez is expected to return by March of 2015 once he is fully recovered from an MCL sprain that forced him out of his UFC 180 showdown with Fabricio Werdum for the UFC heavyweight title, UFC President Dana White told UFC.com.
In the meantime, Werdum will face Mark Hunt for the interim title on Saturday at UFC 180 in Mexico City. But some have posed the question: What if Velasquez isn't ready to fight in March?
White said he'd be open to removing the interim tag should Velasquez be unable to fight.
"We're headed in that direction now," White said. "This next fight in Mexico is for the interim title. So if Cain couldn't compete again, the winner of this fight would be seen as the champion."
Despite the disappointing absence of Velasquez at UFC 180, there is plenty of excitement surrounding the Hunt vs. Werdum matchup.
It's a very interesting bout featuring two distinctly different styles. White said he thinks this is the perfect fight for Hunt at the perfect time.
"A lot of people are saying that Hunt only had three weeks to train for this fight. Well, he trained for a five-round fight. He fought September 20 and then we offered him this fight around October 13. He was in good shape," White said. "He went home and had a few weeks and I think this is the perfect fight for Mark Hunt.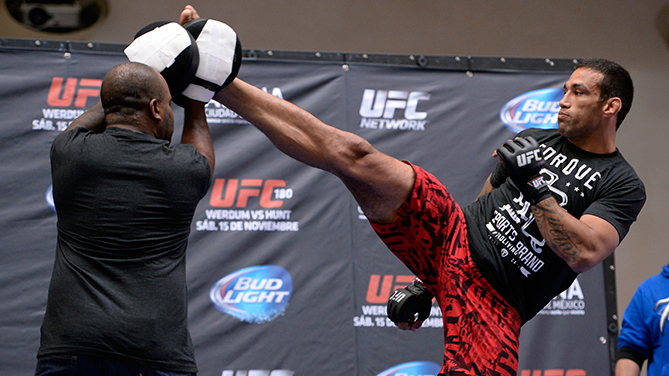 "The only thing is he's coming into (high) altitude, but he'll have been there for three weeks. He'll have been in Mexico City for three weeks. Some guys show up into altitude and don't even have that long to acclimate."

As far as Werdum goes, White has been impressed with the Brazilian's improved standup.
"Werdum is very dangerous on the ground. Everybody talks about his ground game and him maybe being the best submission guy in the heavyweight division, but look what he did to Travis Browne standing up," White said. "His stand up looked unbelievable, and one of the problems for guys like Hunt and Roy Nelson, they're top 10 fighters, but when you break into that top five the athleticism of some of these heavyweights is too much for those guys."
When the bell rings, however, White said that anything can happen in this one.
"But with Hunt, what makes him so exciting is that with one punch he can change everything," he said. "All he has to do is clip you, barely, and he can put you away."
> Watch UFC 180 Embedded:
Has pre-fight training gone too far?
Speaking of Velasquez, White has raised his concerns about the intensity at which fighters train during their camps in preparation for bouts.
The injury bug has been biting more than ever in recent years and White wonders if a toned-down training camp may be the way to go.
"If you look at the NFL, they're not hitting anymore in practice. They're playing games every week," White said. "Mixed Martial Arts training has evolved and gone to a whole different level. I think it's time to reel it back a bit."
On Luke Rockhold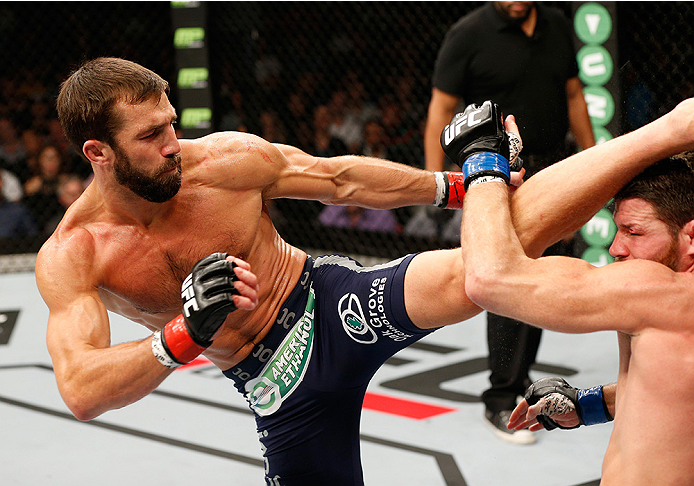 Rockhold made a big statement in the main event of Fight Night Sydney when he finished Michael Bisping with a one-handed guillotine choke.
White said Rockhold, who became the first man to submit Bisping in his 33 career fights, is ready for the elite level of the middleweight division.
"I think that Rockhold's performance showed where he's really at, because no matter what you think of Michael Bisping, everybody respects him as a fighter," White said. "Bisping is legit. You can say he's a gatekeeper or whatever you want, but he's beat a lot of good people."
After Rockhold's victory, he called out Jacare Souza, a man he beat three years ago under the Strikeforce banner. Two days later, Rockhold even went on to say that he is upset Souza is ranked ahead of him at 185 pounds.
White said Rockhold may have a good point.
"Rockhold's ranked number five, I think, because of the Vitor Belfort loss. But he's got a very good point," White said. "He beat Jacare and looked phenomenal against Bisping. How, really, is he ranked number five? It's a good point."
White said there are a number of options for Rockhold's next opponent. Rockhold has said he'll keep himself ready in the event Vitor Belfort needs to pull out of his UFC 184 showdown with Chris Weidman. White is still interested in Rockhold facing Lyoto Machida, as well.
Stay connected with Dana

:
Follow @danawhite