GASTELUM vs BISPING
Former UFC middleweight champion
Michael Bisping
rolled the dice by taking a fight with rising star
Kelvin Gastelum
just three weeks after losing his belt to
Georges St-Pierre
at UFC 217. And while it was a gutsy move by the Brit, it was Gastelum who left the Mercedes Benz Arena in Shanghai with the win, as he halted Bisping in the first round of their
UFC Fight Night
main event.
OHHHHHH MYYYYYYY!!!!!!@KelvinGastelum FLATTENS Bisping in round 1!!! #UFCShanghai https://t.co/v7Pyjv0z20 pic.twitter.com/nlk4Nafu1c

— UFC (@ufc) November 25, 2017
"This is the biggest win of my career," Gastelum said. "I have a huge amount of respect for Bisping for stepping up and I'm thankful."
Bisping replaced
Anderson Silva
, who was pulled from the bout due to a potential Anti-Doping Policy violation earlier this month.
Gastelum started fast, but as the round progressed, Bisping appeared to be getting into his rhythm. Yet as "The Count" got more comfortable, he got a little greedy and missed with a long right hand. Gastelum didn't hesitate to counter, with a right hand followed by a thudding left that put Bisping on the deck. The follow-up shots were mere window dressing, as referee Marc Goddard stepped in to stop the fight at the 2:30 mark.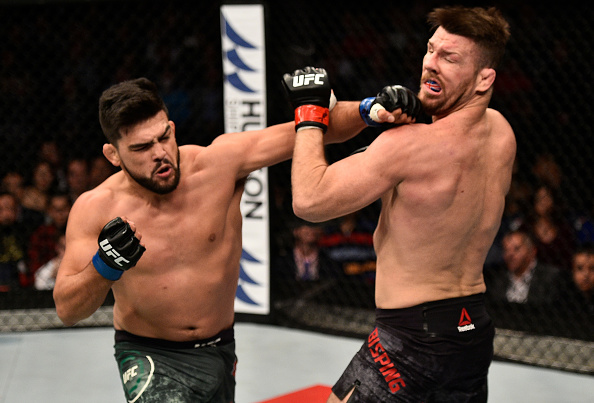 "That's something we trained a lot," Gastelum said of the final combination.
"I was enjoying myself," a gracious Bisping said. "He caught me with a good shot; I've been doing this for a long time, I'm getting old."
With the win, the No. 9-ranked Gastelum moves to 15-3 with 1 NC. The No. 2-ranked Bisping, 38, who is expected to fight his final fight in London in March, falls to 31-9.