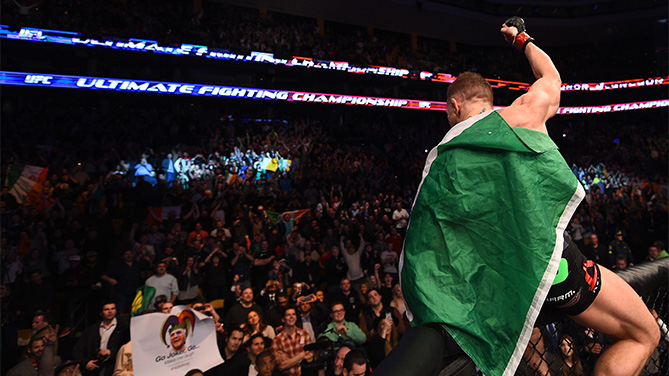 Featherweight sensation
Conor McGregor
remained sensational in his
UFC Fight Night
main event against
Dennis Siver
Sunday night, knocking out his foe in the second round at TD Garden in Boston, but it was what happened after the bout ended that will be the topic of conversation, as McGregor stormed out of the Octagon to confront the man he will face next – UFC featherweight champion
Jose Aldo
.
"He's one of them saying it's all talk," a fired up McGregor said. "It's not all talk. I'm gonna whip everyone in this division. I said that, and I will do it."
For his part, the champion stayed cool and simply smiled, knowing that the two will get to throw hands soon enough later this year.
"It's normal to me," Aldo said of McGregor. "He's just a joker and a court jester to me. All I do is laugh at him."
The kicks were flying fast and furiously from both men, neither landing cleanly, but keeping the crowd into the action.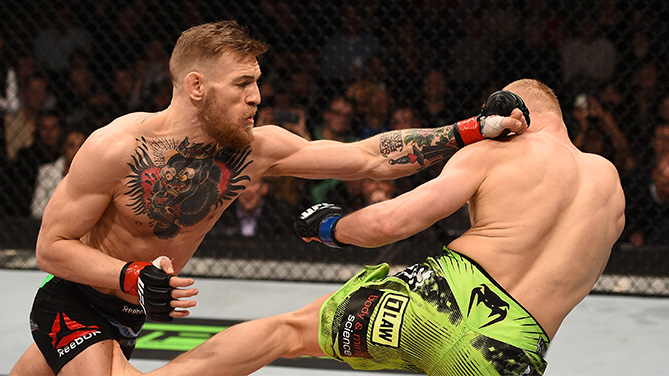 Siver was using more movement than he usually does, but he stayed busy the whole time. McGregor's best weapon early was a straight left that bruised Siver up, and by the fourth minute, Siver was on the defensive as McGregor stalked. The Irishman avoided Siver's first takedown attempt, and while the Germany product did get his foe down briefly moments later, he paid for it, as McGregor's precision shots bloodied his face.
A left kick to the head by McGregor jarred Siver to open up round two, and "The Notorious" one was walking his opponent down with little regard for anything coming back at him. In the second minute, a left hand put Siver on the deck, and as McGregor moved into the mount position, all it took were a few more well-placed shots and the fight was over, with referee Herb Dean intervening at the 1:54 mark.
"I said two minutes, I meant two rounds," McGregor said, referring to his pre-fight prediction that he would defeat Siver in two minutes. "I felt comfortable throughout, I don't think any of these pose a threat. Every single one of them keep talking about the talk, but never once in your life will you hear them talk about the skill or the technique, because they know I own that."
With the win, the 26-year-old McGregor improves to 17-2; the 36-year-old Siver falls to 22-10 with 1 NC.