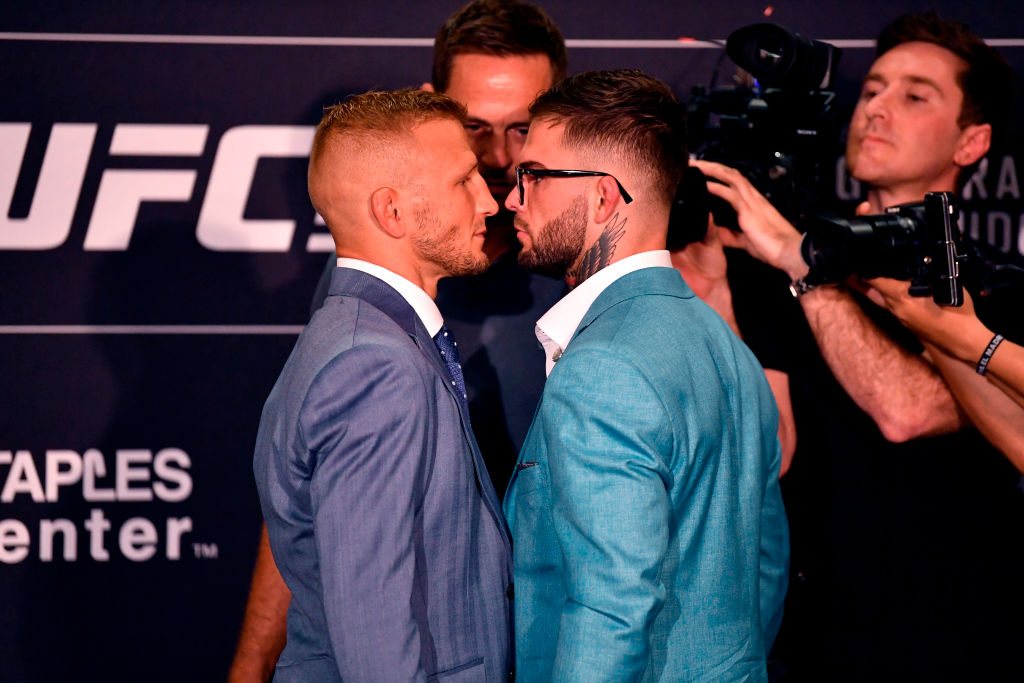 The temperatures in Los Angeles this summer have been record-setting, suffocating SoCal in a soup of steam and sweat. The bad news for the city is that Saturday's UFC 227 extravaganza will do nothing to decrease the heat. In fact, quite the opposite.
Packed with bad blood, great records, historic implications and tons of local love, the Staples Center showdowns will ensure there is no chill in the City of Angels.
These are the reasons to watch UFC 227.
Putting the 'Grudge' Back in Grudge Match
While it's true that some fighters will feign animosity toward their opponent in hopes of driving more eyeballs, it's also true that TJ Dillashaw and Cody Garbrandt have never had to pretend. Their acrimonious split as teammates years ago has given way to a very real and very public embodiment of bad blood.
We caught up with @UFC champ @TJDillashaw to ask him about his highly anticipated rematch with Cody Garbrandt, how he feels about defending the belt in Los Angeles & the state of the 135 pound division. #UFC227

Read the full Q&A here : https://t.co/uANojqubHo pic.twitter.com/i522KBul33

— UFC News (@UFCNews) August 2, 2018
That animosity came to a head at UFC 217 last November when Dillashaw claimed the bantamweight strap from Garbrandt with a second round KO. As short as the fight was, it was visibly a close match that might easily have gone either way.
For the rematch, both men have dialed down the public beefing, but the tension is still palpable. For the moments following his loss last November, Garbrandt's memories are still fresh.
"TJ's up in my facing, flexing on my team, acting like a real a------. I remember every single thing, and that's what motivated me this time in camp. He got in my face right after that fight. But he knows damn well if was me and him, in our locker room, face to face, he wouldn't do that. He did it [in the Octagon] because he's classless."
History in the Making
Regardless of who wins the co-main rematch between Demetrious Johnson and Henry Cejudo, history will be made. If DJ wins again, it will mark his 12th successful title defense. He already owns the record with 11 defenses, and every one he wins going forward will send his G.O.A.T. status further and further into the stratosphere.
"Everybody has a breaking point." @HenryCejudo has a message for the folks who doubt he can beat @MightyMouseUFC at #UFC 227.https://t.co/utwg6cqbPk pic.twitter.com/RQPtVkILBN

— UFC News (@UFCNews) August 3, 2018
Should Henry Cejudo right the wrongs of his last go-round with Johnson and come away with the win, he'll be only the second man ever to throw the flyweight belt over his shoulder, and will have halted an unprecedented march of one of the all-time greats. A refreshed Cejudo is not lacking in confidence.
"We're the same athlete," he said. "Everything he does, I can do. It's been my dream to be UFC champion and I'm just days away from doing that."
California Love
There's just an energy surrounding the city of Los Angeles that has made fight week special. Over half of Saturday's fights feature athletes either from California or that train out of the Golden State, including four of the five bouts on the UFC 227 Pay Per View main card.
Fighters with Cali ties include: TJ Dillashaw, Cody Garbrandt, Henry Cejudo, Cub Swanson, Kevin Holland, Matt Sayles, Sheymon Moraes, Alex Perez and Danielle Taylor.
Expect to see and hear big time support when it's go time at Staples Center.
Upcoming Talent
UFC 227 features two great title fights, but it also features some of the top upcoming talent on the UFC roster. Out of the 24 fighters that will make their way into the Octagon on Saturday, 18 have three or less losses.
In addition, nearly all of these fighters are part of the four lightest weight classes. The middle weight bout between Thaigo Santos and Kevin Holland is the only fight with athletes above featherweight.
Be sure to watch UFC 227 tomorrow live on Pay Per View from Los Angeles. Order the card here: http://www.ufc.com/ppv