DETROIT – Michelle Waterson said people we're coming up to her all week asking why her UFC 218 fight – a five-six matchup in the strawweight division against Tecia Torres – wasn't getting more attention.
A stunned Waterson squinted and replied, "Did you see the card? It's freaking stacked," she said.
Matchmakers Mick Maynard and Sean Shelby really put together a can't-miss collection of fights and the athletes delivered. Eddie Alvarez-Justin Gaethje and Yancy Medeiros-Alex Oliveira were so good that UFC president Dana White awarded them both Fight of the Night Honors.
Paul Felder's vicious ground and pound TKO finish against Charles Oliveira was overshadowed by the night's unbelievable fights. Same thing happened to Henry Cejudo, who put forth a wrestling masterclass to stymie Sergio Pettis is a huge flyweight bout.
The true measure of a fight card is always going to be the headliners. Francis Ngannou demonstrated another level of his scary power when he landed a cartoon-like uppercut on Alistair Overeem that sent his head back like it had been run over by a truck.
UFC featherweight champion Max Holloway won his 12th in a row in another dominant performance as he continues to evolve and get better every time out.
These are the UFC 218 Talking Points
Holloway continues to be champ in and outside Octagon
Jose Aldo looked good against Max Holloway. He was landing punches and even worked in some leg kicks this time around. But his best was no match for Holloway, who patiently waited for Aldo to expend his energy before turning up the pace in the third and decisive round.
But it was something Holloway said after the fight that may have made the biggest impression. He had just finished beating Aldo convincingly for the second time in six months and he was quick to offer praise and appreciation for the Brazilian legend.
"He's the greatest of all time," Holloway said. "He's got what, seven or eight title defenses? I got to catch up. … I think Brazil should be building statues of that guy in the favelas. He's a legend. He's a goat."
That's champ life, respect.
Frightening power of Ngannou next for champ
There was a collective hesitation to fully believe the hype surrounding Francis Ngannou heading into the toughest test of his career against Alistair Overeem.
But after the huge upper cut landed, the entire world and more importantly the heavyweight division has been put on notice.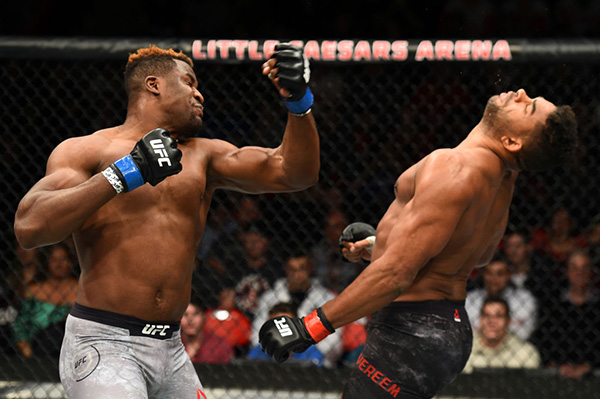 White confirmed that Ngannou will be next for UFC heavyweight champion Stipe Miocic and that's shaping up to be one of the biggest clashes in the history of the division.
Ngannou believes he's ready.
"It is one punch. Not just to Overeem, not just to Stipe [Miocic], I will do that to everyone. I am on my way to completing my dream," Ngannou said. "I always dreamed of being a world champion.
"Tell Stipe that I am coming. I am on my way to collect my belt. I thank him for keeping it for me but that time is over. That is my belt."
Alvarez claims title of UFC's most violent man
Alvarez vs. Gaethje has had fight fans swooning for months as the two coached opposite another on The Ultimate Fighter. The buzz was so deafening it was going to be hard for the fight to live up to the expectations.
But both Alvarez and Gaethje delivered on their promise to come forward and bang for every moment of the fight. Alvarez was like a Tasmanian Devil the way he was mixing up his punches and attacking the body. He ended up basically on one leg after countless Gaethje leg kicks but just needed on of them to land the finishing knee.
Alvarez gave respect to Gaethje after the fight, saying it takes two to tango. The two certainly left everything in the Octaon.
"Titles are great but, at the end of the day, the thing everyone cares about is who the most violent fighter is and that's what this fight was tonight," Alvarez said. "If you're not ready for Justin Gaethje, he'll put you on your butt every time so I used the body shots to hurt him and control the pace. Every single day, I'm in the gym with my coaches. I try to be ready for anything."
Matt Parrino is a digital producer and writer for UFC.com. Follow him on Twitter at @MattParrino