FELDER vs C. OLIVEIRA
It didn't look good for Paul Felder early in his lightweight bout against Charles Oliveira at Little Caesars Arena in Detroit on Saturday, but "The Irish Dragon" survived his opponent's submission attempts and roared back to score a second-round stoppage in UFC 218 prelim action.
Oliveira ate a left hook early but was undeterred as he locked Felder up and took him to the mat. Oliveira locked in a choke, but Felder did his best to escape and he eventually did so, even though he took an illegal knee in the process. Once to his feet, Oliveira looked for the choke again, but Felder got free and opened up with his strikes as the two went back to the mat, cutting Oliveira with an elbow.
Felder put Oliveira on the deck with an elbow early in round two, and while the Brazilian kept looking to catch his foe with a submission, Felder kept throwing bombs, and eventually, Oliveira had enough, with referee Dan Miragliotta stopping the bout at 4:06 of the second frame.
Philadelphia's Felder improves to 15-3 with the win; Sao Paulo's Oliveira falls to 22-8.
MEDEIROS vs A. OLIVEIRA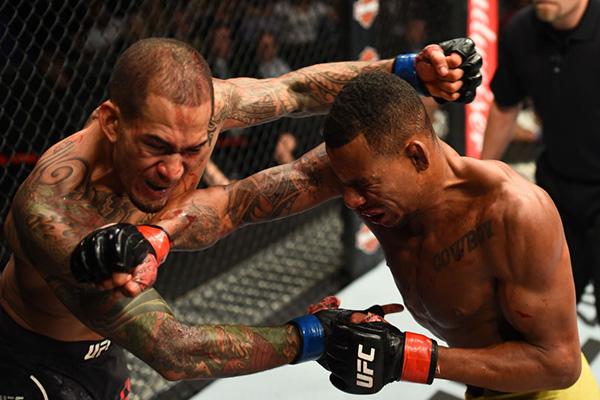 Welterweights Yancy Medeiros and Alex Oliveira went to war for nearly three rounds in their instant classic, with Medeiros outlasting his foe to take a third-round TKO victory.
Oliveira blitzed Medeiros as the fight began, throwing a series of kicks at the Hawaiian, but Medeiros drew first blood – literally – as he knocked Oliveira down with a left hand that bloodied the Brazilian's nose. Oliveira got up and clinched his foe against the fence, with a low knee by "Cowboy" bringing a brief halt to the action. When it resumed, Oliveira dropped Medeiros to even the knockdown battle, and after the two clinched for a spell, Oliveira surged into the lead with another knockdown and several hard blows as Medeiros rose. With 90 seconds left, Medeiros began landing with elbows, announcing his arrival back in the fight. In the final minute, the combatants slugged it out, Oliveira holding the edge but Medeiros refusing to back down.
After one of the best rounds you will see, Medeiros and Oliveira touched gloves before the second and went back at it, Medeiros taking the lead with a varied striking attack. Midway through the round, Medeiros drilled his foe with some body shots that visibly hurt Oliveira, but the resilient Brazilian bounced back and went on to land several kicks from long range. With 40 seconds left, the fight went to the mat with Medeiros on top, and a series of thudding elbows followed, allowing him to finish the round even stronger than he started it.
Oliveira got the fight to the mat in the opening minute of round three, but Medeiros reversed position and got on top. After a brief stay there, the two rose and Oliveira looked weary. Medeiros pounced and finished the fight, with a barrage of blows bringing in referee Bobby Wombacher in to halt matters at 2:02 of the third stanza.
With the win, Medeiros ups his record to 15-4 with 1 NC. The No. 15-ranked Oliveira falls to 17-4-1 with 2 NC.
TEYMUR vs KLOSE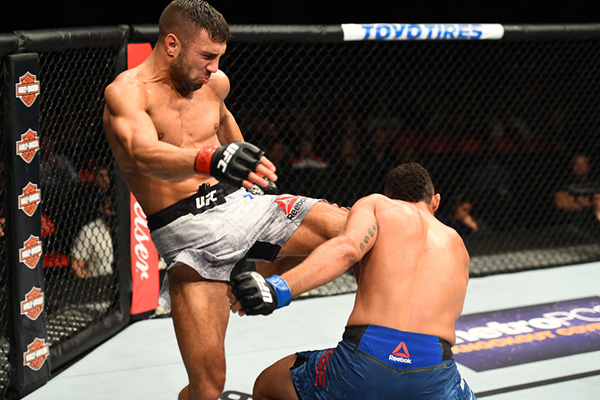 Former
Ultimate
Fighter competitor David Teymur handed South Haven lightweight prospect Drakkar Klose his first loss, as he scored a three-round unanimous decision win.
Utilizing a stick and move strategy, Teymur caught an early warning from referee Herb Dean for more moving than sticking, a curious call that nonetheless sat just fine with the pro-Klose crowd. Once the bout resumed, there were a few heated exchanges on the feet, with Taymur holding the edge. Klose responded with a takedown in the final minute, but Teymur jumped back up immediately, and the two kept it standing until the horn.
In the second, Teymur continued to peck and poke at Klose, frustrating the Michigan native, and his frustration mounted as Teymur tripped him to the mat late in the round and finished the frame in control there.
Round three was more of the same, Teymur controlling the striking at a measured clip, with Klose's takedown of his foe not lasting more than a few seconds. This work by the Swede made it no surprise that the judges returned a 30-27 twice and 29-28 verdict in his favor, allowing him to up his record to 7-1. Klose falls to 8-1-1.
RELATED: Yancy Medeiros Octagon Interview | Overeem vs Ngannou - The Bigger The Better | Main Event Preview
HERRIG vs CASEY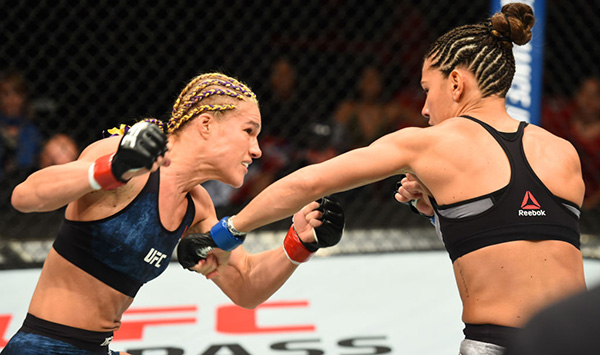 In a meeting of strawweight contenders, Felice Herrig extended her winning streak to four with a split decision victory over Cortney Casey.
Evenly matched on paper, Herrig and Casey lived up to those expectations in their fight, with very little to separate the two over 15 minutes as they battled on the feet throughout all three rounds. Herrig did pick up a takedown in the first round, but a Casey reversal evened things up quickly. Over the next two frames, it was nip and tuck, and while Herrig took some hard shots, she delivered more than a few of her own, nearly closing her foe's left eye before the final horn.
With the win, the No. 9-ranked Herrig improves to 14-6. The No. 11-ranked Casey falls to 7-5.
COOPER vs MAGANA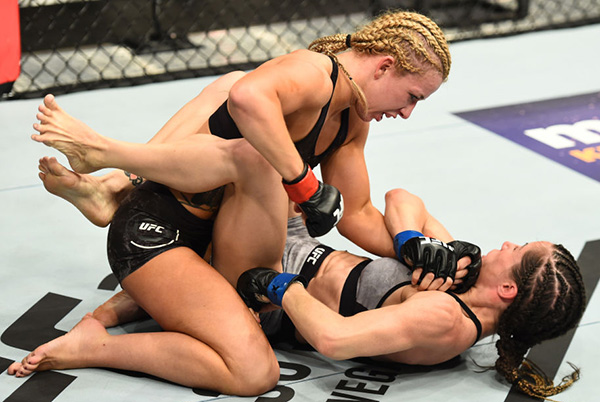 Bath, Michigan's Amanda Cooper thrilled her fans in Detroit, halting Angela Magana in the second round of a clash between strawweight alums of
The Ultimate Fighter.
Cooper dominated the first round on the ground, coming close to finishing the bout on a couple occasions, but Magana hung tough.
Taking the bout right back to the mat to start the second frame, Cooper kept the pressure on, and while Magana found her way out of several dicey situations, it reached a point where the action was so one-sided that referee Keith Peterson had seen enough, stopping the fight at 4:34 of round two.
Cooper improves to 4-3 with the win. Magana falls to 11-9.
ALHASSAN vs HOMASI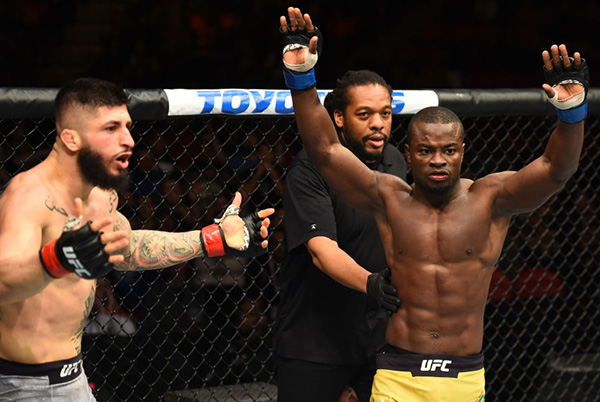 An entertaining welterweight scrap between Abdul Razak Alhassan and Sabah Homasi met an abbreviated end, with Alhassan picking up his second UFC victory via first-round TKO.
The power shots were flying from the start, with Homasi (11-7) scoring first, but Alhassan (8-1) was firing back even harder. Homasi recovered quick and jarred Alhassan before landing a takedown, but after eating a couple hard elbows, the Ghana native got back to his feet. The two went on to battle at close range against the fence, and during a furious exchange, Homasi got clipped while going for a takedown, and referee Herb Dean halted the fight, much to the dismay of Homasi and the fans in attendance. The official time was 4:21.
REYES vs KIMBALL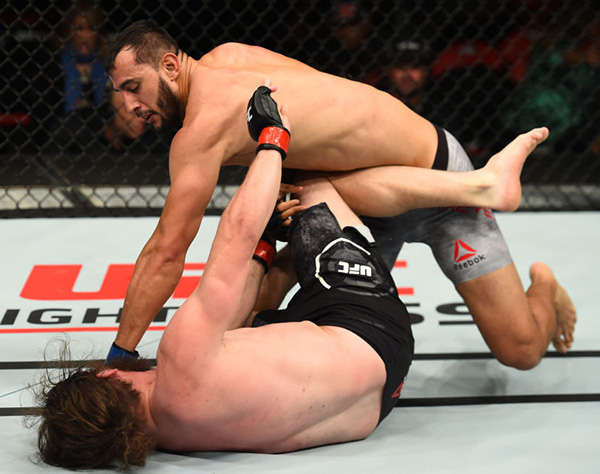 Unbeaten Dominick Reyes continued to impress in light heavyweight action, scoring a first-round submission of Jeremy Kimball.
Kimball went to work immediately, closing the distance on his foe and scoring with a quick slam before locking up against the fence. Reyes turned the table and took Kimball down, landing some strikes before taking his opponent's back in a scramble. Reyes fired off elbows from that position before locking in the rear naked choke that ended the fight at the 3:39 mark.
With the win, Victorville's Reyes ups his record to 8-0; Colorado Springs' Kimball falls to 15-7.
WILLIS vs CROWDER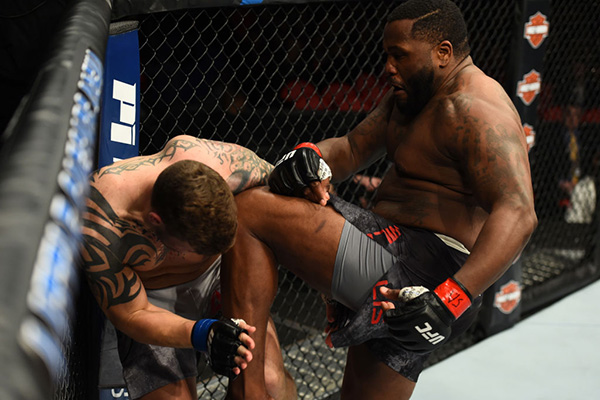 Heavyweight prospect Justin Willis made it two for two in the opener, halting Dana White's Tuesday Night Contender Series alum Allen Crowder in the first round.
Crowder tried to get his offense in gear early, but Willis had an answer for everything, landing hard shots throughout. Midway through the frame, a left hook rattled Crowder, and moments later, another left hook ended matters, with referee Dan Miragliotta stepping in at 2:33 of the opening round.
San Jose' Willis moves to 6-1; Crowder falls to 9-3 with 1 NC.