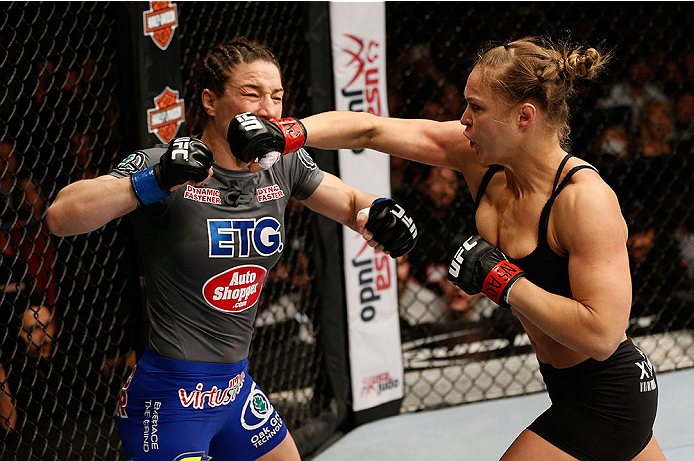 RONDA
No armbar??? A liver shot knockout??? If
Ronda Rousey
couldn't get any scarier, she might have done so on Saturday night with her 66 second knockout of
Sara McMann
. And yes, there was controversy about the stoppage, but if McMann is allowed to continue after taking that knee to the liver, odds are that the ensuing onslaught from the
UFC
women's bantamweight champion was going to finish matters even more emphatically seconds later. Yet while we're on the topic, in real time I thought Herb Dean's stoppage was early, but upon second glance, you can clearly see that when he begins to intervene, McMann is taking unanswered shots and not intelligently defending herself. By the time the stoppage finishes, McMann is on her way back to her feet, which is what prompted the boos from the fans at the Mandalay Bay Events Center. So it was the right call, especially when Dean has a split second to make such a decision. Unfortunately, refereeing is a job where you usually only get noticed when there's a controversy, but Dean is one of the best in the sport. Having said that, I do disagree with his late stoppage in the
Mike Pyle
-
TJ Waldburger
bout. Waldburger, who was coming off a knockout loss in his previous fight, took too many unanswered shots before Dean eventually stepped in. But back to Ms. Rousey, whose dominance in the division is getting more prominent. She isn't just going in there to win fights; she's going to win fights in particular ways. On Saturday, the method of choice was knockout by body shot. She got it, a testament to her attention to the striking game. When speaking to her before the fight, Rousey said that boxing had reinvigorated her competitively, and while it wasn't a boxing move that ended the McMann fight, those body shots were born from coach Edmond Tarverdyan's attention to the striking game. As for Rowdy Ronda's next challenge, it's got to be between
Cat Zingano
and
Alexis Davis
. Does either contender have a shot? Zingano's striking and Davis' ground game and durability give them each ways to win, but at this point, both have to be longshots on the oddsmakers' board.

DC TAKES CARE OF BUSINESS
Daniel Cormier
was really in a no win situation against
Patrick Cummins
Saturday night. Facing a 4-0 fighter coming in on short notice due to an injury suffered by
Rashad Evans
, Cormier had to be spectacular. Any other result and there would be question marks surrounding the light heavyweight debut of DC. But he was spectacular, blasting Cummins out in 79 seconds that made him an immediate player in the 205-pound weight class. It was clearly Cormier's best performance in the UFC, putting him right in the title mix. As for Cummins, despite Saturday's result, he will get another shot in the Octagon, and with a full camp under his belt, he is likely to show off the skills that made him one of the most avoided prospects in the division. It was just that against a motivated and angry Cormier on this night, he turned out to be in over his head.
RORY RETURNS
Some disagreed with the decision and others wondered why
Rory MacDonald
didn't more aggressively pursue the finish against
Demian Maia
, but the way I see it, "Ares" reintroduced himself to the welterweight title picture in a big way with his Fight of the Night victory over the Brazilian grappling ace. Showing resilience and heart in bad situations before displaying an accurate and vicious striking attack, MacDonald bounced back from his loss to
Robbie Lawler
in impressive style, and with plenty of intriguing options for him at 170 pounds that include rematches with the only two men to beat him – Lawler and
Carlos Condit
– the Canadian will likely be in some big fights here on out in 2014.
RISKY BUSINESS
Like Daniel Cormier,
Raphael Assuncao
was in one of those no win situations in his bout against late replacement
Pedro Munhoz
. Originally scheduled to face fellow bantamweight contender
Francisco Rivera
, the Brazilian was put in with Munhoz after an injury pulled "Cisco" from the fight. And if Assuncao lost to the unbeaten, but unknown, Munhoz, it would not only scrap his five fight winning streak, it would take him right out of contention for a shot at champion
Renan Barao
. And while Assuncao wasn't as dominant and decisive as Cormier was against Patrick Cummins, he got the victory, his win streak is now six, and he's at the top of the line for a possible title fight later this year.
WONDERBOY VS. QUICKSAND
Stephen "Wonderboy" Thompson picked up a Performance of the Night bonus for his win over
Robert Whittaker
, and Mike "Quicksand" Pyle was impressive as well in stopping TJ Waldburger. So what's next for these welterweight standouts? How about a fight against each other. Sure, Pyle has a huge experience edge on the still evolving Thompson, but the striking of Wonderboy has a way of equalizing everything. This fight has fireworks written all over it.