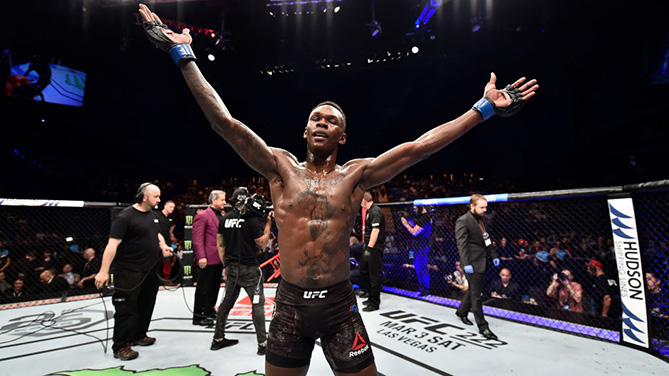 The first time somebody watches Israel Adesanya fight, his rangy limbs and unpredictable striking style might remind a UFC fan of one of the best mixed martial artists ever:
Jon Jones
.
Confidence radiates off Adesanya, who holds a 14-0 MMA record and is 3-0 in the UFC, and he isn't shy about sharing what he thinks of the comparison.
"When (Jones) came to the scene, he was compared to Anderson Silva, who was the all-time great at the time," Adesanya told UFC.com. "(Jones) has surpassed what Anderson has done, so I'm the new kid on the scene. I'm fast-rising, even faster than both of them, so people are going to compare me to the other skinny, black guy who is a living legend in Jon Jones.
"Eventually, I'm going to outgrow those comparison and blaze my own trail."
The trail the undefeated middleweight is on seems to have no limits. "The Last Stylebender" finished his first 12 fights via KO or TKO, and he is coming off an impressive unanimous decision victory over then-No. 8 Brad Tavares at the TUF 27 finale. That fight went all five rounds, but the dip into the later rounds did not leave Adesanya tired. In his words, he felt "mint."
"Eventually, I'm going to outgrow those comparison and blaze my own trail." @Stylebendertalks about the frequent comparisons to @JonnyBones and also...That's So Raven (?) in our wide-ranging conversation in NYC yesterday: https://t.co/fazfujDM00 #UFC230 pic.twitter.com/uiNoEWuVxe

— UFC News (@UFCNews) October 31, 2018
Although some intially worried Adesanya stepped up in competition too quickly before he fought Tavares, his display earned Performance of the Night and boosted an already high level of hype.
"The only thing that saved (Tavares) was his toughness," Adesanya said. "But it wasn't back and forth at all. It was a one-sided ass-whooping."
Now, ranked No. 9 in the division, Adesanya is set to fight No. 6 Derek Brunson, a veteran coming off a knockout loss to Ronaldo Souza at Fight Night Charlotte. In July, the two traded jabs over social media, and mentally, Adesanya says Brunson "doesn't believe in himself."
Whether or not that's true (it's probably not), talking to Adesanya for just five minutes gives you the sense that he feels that he's the man to beat in the division. He just needs chances to prove it. The more chances he gets, the scarier he becomes as a prospect. Even though he went the distance in his last two fights, he doesn't want people thinking that's the new normal.
"I've been finishing guys from the jump of my MMA career," he said. "I'm just kind of getting the hang of this UFC flow, so yeah, it's coming back."
The people's elbow
I only have half eyebrows though...#knowyourroleandshutyourmouth pic.twitter.com/CTuWqxXGcR

— Israel Adesanya (@stylebender) September 21, 2018
The Nigerian said he already knows what's going to happen in Madison Square Garden on November 3. When pressed, he scoffed a little bit, saying he didn't understand why everybody wants to be so "That's So Raven" about fights, referencing the Disney Channel show where the main character could see the future.
Still, Adesanya indulged:
"If I do the math, for me I've said it's round one (or) two, I'm going to finish him," he said. "It depends on his chin and my strikes, or I'll submit him."
When the 29-year-old steps into the Octagon to open up the Main Event fights for UFC 230, he'll bring with him a level of hype and confidence only equaled by the skyscrapers in New York City. Brunson is another obstacle in his way, and he's hungry to see his hand raised when the fight is over.
"I got the buffet in front of me," Adesanya said. "(Brunson) can choose wisely how he wants to die."
Zac Pacleb is a writer and producer for UFC.com. You can follow him on Twitter @ZacPacleb.