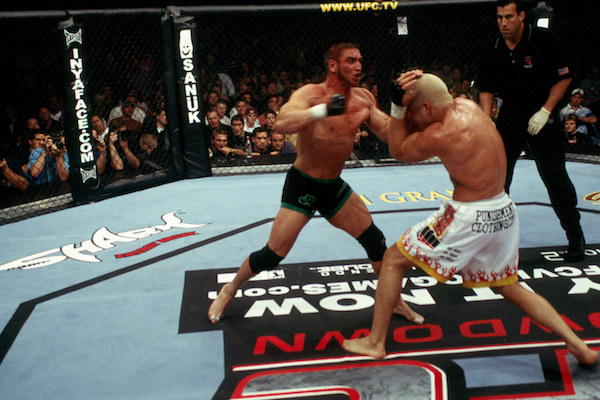 A quarter of a century ago, Ken Shamrock was part of a revolution in combat sports as a competitor in the first
Ultimate
Fighting Championship event in Denver on November 12, 1993.
It wasn't exactly what he expected to happen at McNichols Arena.
"One of my students,
Scott Bessac
, gave me a flyer about this no holds barred thing and of course I thought it was a joke," said Shamrock. "He said, 'No, it's for real, it's anything goes.' In my mind, I'm thinking there's no way they could do that. They only do that in movies. Then I called Art Davie and he basically assured me that it was real, and I didn't believe him. But I said, 'Okay, put me in.'"
Future UFC Hall of Famer Davie asked this other future Hall of Famer what his credentials were.
Shamrock, who was making a name for himself as one of the top competitors in Japan's Pancrase promotion, filled Davie in. After a short wait, Davie got back to Shamrock and let him know that he was in the eight-man tournament.
There was no jumping for joy, no setting up a two-month training camp. In a classic case of "don't quit your day job," Shamrock went back to Japan and back to work, submitting Takaku Fuke in 44 seconds on November 8. That's not a typo.
"I wasn't going to jump into this thing when I didn't believe that it was going to happen," he laughs. "So I went to Japan and then I jumped on a plane with a couple Japanese guys to help me prepare for whatever was going to happen (in Denver)."
Once back in the States and in town for the
UFC 1
press conference, Shamrock wasn't too impressed.
"I see all these guys there and they all did not look like fighters to me," he said. "Some of them should have been in a rocking chair, drinking a beer, and other ones looked like they shouldn't be in a sports event at all, which was
Royce Gracie
. So it was definitely something I did not expect."It was immediately clear, though, that if we were going off looks alone, Shamrock was going to tear through the tournament and pick up the big check at the end of the night. He was built like a Hollywood action hero, he talked the talk and could walk the walk. That aura of being "The World's Most Dangerous Man" made him a rising star in Japan, and it was about to do the same thing in his home country.
"I think people don't realize that if there was an intimidating figure, a person that people feared to fight, like a Mike Tyson, when boxers used to go in there and get beat before they ever threw a punch, that was me," Shamrock said. "That was my thing when I was fighting over in Pancrase. Even in the UFC, people stared across the ring at me and they were afraid for the fight to start. And I believe a lot of it had to do not only with my fighting ability, but my interviews, my determination, my personality – all those things that are interesting for fans to watch. It also worked out well against the people who were fighting me because when they walked into the ring, I put so much pressure on them in interviews and press conferences that by the time they walked in, they were already beat."
That attitude wasn't an act, either. It came from a place built on a lifetime of fighting where there really were no rules.
"It was always a fight for me, and the thing you had to do was let people know who you were, where you came from and the reason why they weren't going to step on your toes," he said. "So a lot of that came from the way I was brought up. People were gonna know and understand who they were getting into it with, and the reason why we were getting into it, and that this is my house. I'm the one in charge."
Matched up with
Patrick Smith
in the first round of the tournament, Shamrock watched with his fellow combatants as the opening bout saw
Teila Tuli
lose his tooth and a fight courtesy of a
Gerard Gordeau
kick in just 26 seconds.
Shamrock loved it. Some of his peers, not as much.
"I watched the very first fight, and that's when I was like, 'This is really happening,'" he said. "And like most people in this type of situation, they all started getting worried. 'This is not what I signed up for; you can't kick a guy in the face.' And in my mind, I'm thinking, 'Oh yeah, you can; this is what they said this was.' I just didn't believe it. But I was excited. This is one step above what I was doing, and I was always that guy that wanted more of the extreme. I was a street kid my whole life. I fought in juvenile hall, I fought in group homes, I fought for survival, and now I'm gonna get paid for it? And I don't have to fight ten guys."
Shamrock's first fight saw him finish Smith in less than two minutes. In the semifinals, he met another fighter who eventually entered the UFC Hall of Fame in Gracie, and their long-time rivalry began with a 57-second submission win by the Brazilian grappling master.
"I thought for sure I was gonna destroy this guy walking around in pajamas," Shamrock said. "The next thing I know, I'm looking up and I tapped. I didn't even realize I tapped, and I'm thinking, 'Okay.' From that point on, it was my journey that started because I knew that I was not going to go out like this. I wanted to make sure I got back and was able to show people what I was about and not take it lightly."
View this post on Instagram
Over the coming years, the world got to see what Ken Shamrock was about. In addition to continued success in Japan, where he competed for both Pancrase and PRIDE, he also went 5-1-2 in his next eight UFC bouts, earning the Superfight title with a 1995 win over
Dan Severn
. A run in the WWE took him away from the sport for a few years, but his return included participation in some of the biggest fights of his era, including PRIDE 19 against
Don Frye
and
UFC 40
against Tito Ortiz in 2002. Not surprisingly, Shamrock earned his place in the UFC Hall of Fame in 2003, and his pioneering run in the sport won't be forgotten.
But does he believe that there would even be a sport to talk about today if he had won that first tournament in 1993 as expected?
"I do," said Shamrock, 54. "They had other people in the wings like Rickson Gracie, that if Royce was to lose, they would have come back with someone better. I think Rorion (Gracie)'s idea was to show the world that smaller guys could beat bigger guys. And on TV, Rickson doesn't look like a small guy, even though he is by stature. But he's muscular. So Rorion wanted this visual of somebody that wasn't this intimidating figure who would beat all these guys that were bigger. But if that didn't happen, he had Rickson standing in the wings waiting to jump in and rectify the situation.
"Now if we go on and I ended up beating Rickson also, then maybe we're not talking about the UFC like we are today," he continues. "But who knows, because of the popularity of it, someone else may have jumped in and done it."
Through the ups and downs, the sport hasn't just survived, but it's thrived. Ken Shamrock has played a big part in that.
"I'm very proud to be able to see this thing get to where it's at," he said. "I know in the beginning there was a lot of push to get us out. We were very easily targeted to get banned and they almost did it. So it was tough, but we had to stay focused and fight. It was a hard time and a rough time, but when I look back at it now and see where it's at today, I'm very proud that I was able to be that guy to fight for this event to keep moving forward. A lot of other people did too, but I was the bull's eye, I was the one everyone was showing when they were showing the bad things; I was the face. And I had to stand up for myself and handle myself very professionally and I did that very well. I think I was able to help the organization be able to keep moving forward. I take a lot of pride in that."