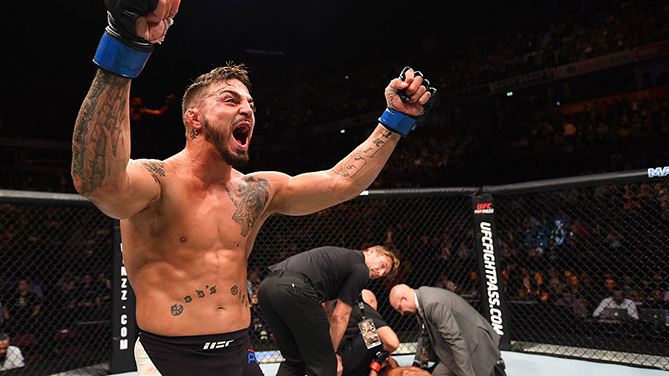 With a penchant for finishing fights but never getting finished himself, Mike Perry's entrance into the UFC coincided with him being an immediate fan favorite. The announcement that he'll got to war with Donald 'Cowboy' Cerrone at Fight Night Denver sent understandable tremors of excitement throughout the MMA community, and quickly moved to the front of the line potential Fight of the Night.
In terms of fighting style and a devil-may-care attitude, Perry and Cerrone are somewhat kindred spirits. This Saturday, the younger Perry will attempt to thwart Cowboy's run at being the all-time winningest UFC fighter, and start cementing record-breaking achievements of his own.
We sat down with 'Platinum' Perry ahead of Saturday's historic 25th Anniversary card.
"It takes a strong heart and mind and soul to be able to do this, and there can't be any excuses ever." - @PlatinumPerry gave us his thoughts on his matchup with Donald Cerrone and what it takes to be a professional fighter. #UFCDenver https://t.co/Luqpbq8zrO pic.twitter.com/V97G0V8rgb

— UFC News (@UFCNews) November 8, 2018
UFC: You're never in boring fights, but beyond that, fans seem attracted to you because you seem to be having a good time. Is that fair to say, are you having a good time when you go to war?
MP: Absolutely. I'm definitely having a good time when I'm in it.
It's hard, because there are just these moments of great fear, and that can just make any man weak. You've gotta really test yourself and find yourself in that moment of fear [takes a deep breath, grits teeth] and really see how you want this to go. Do you want to lay down and die, or are you gonna f****** fight and kill someone if you have to?
UFC: I've heard you say before that you've fought Cowboy Cerrone for free, so you might as well fight him for a payday. Did you learn anything when you sparred with him that's going to help you on Saturday?
MP: I kinda held back on him. I wonder if he did the same? I don't know. All he's got is kicks, really. I know his grappling is decent, but I'm way too strong. He has no idea. I felt like he was very easy to hit. I didn't even hit him; I was just putting my gloves on his face, touching him as much as I wanted. Touch, touch, touch—slip, slip—touch, touch, touch...easily. Cake walk.
UFC: Cowboy has one of the most storied careers in UFC history. Do you aspire to hold records the way he has?
MP: Absolutely, man. I'm trying to build other things for myself so that fighting is more than just 'everything' to me. But right now it's all I got. It's a good life, it's very fun. I've got new people that are helping me along the way that have intrigued me to enjoy it a little more. I'm looking to shut Cowboy down from being the winningest fighter ever. He has that opportunity. He's trying to become something Saturday night, and I'm gonna shut that down. This will be sixth UFC win, my fifth UFC knockout. Nine fights in a little over two years. I could possibly have the most wins in UFC history if I keep this pace.
View this post on Instagram
UFC:

We're here in Denver celebrating the 25th Anniversary. Do you remember the first UFC fight or fighter that caught your interest?
MP: Man, I used to love watching Anderson Silva and GSP. GSP would point-fight you on the hands and feet, and he could take anyone down and control them. And Silva, his trash-talk during the fight, his showboating, and his knockout capabilities…I definitely looked up to that a lot. I used to look up to Jose Aldo a lot, too. McGregor kinda ruined that for me (laughs). There's so many great, great stories from watching UFC fights. So much inspiration that led to who I am and what you see today.
UFC: Is it surreal to you that some young fighter might be saying that about you now? That they were inspired by watching Mike Perry?
MP: There are some people who write me in the DMs and say "You're my favorite, man, you inspire me to go train every day…" and I'm like "Oh yeah?" I wonder if they're like me or if they're talking out of their ass…because training is no joke. You seriously have to dive all the way into it. Fighting takes all of your time and effort, one hundred percent…to go win and to go perform in front of millions of people, against someone who has been training just as hard as you and can take your head off. It's very nerve-wracking, and it takes a strong heart, mind and soul to be able to do this. There can't be any excuses, ever. Not one excuse. You just have to go in that b***h hurt, all messed up, bleeding, doesn't matter. Injuries are real. Every time you go in, there's no quit. There's no stopping. There's no "I can't." There's no backing out of fights. There's no missing weight. This is what I do.
Steve Latrell is a writer and producer for UFC.com. Follow him on Twitter @TheUFSteve