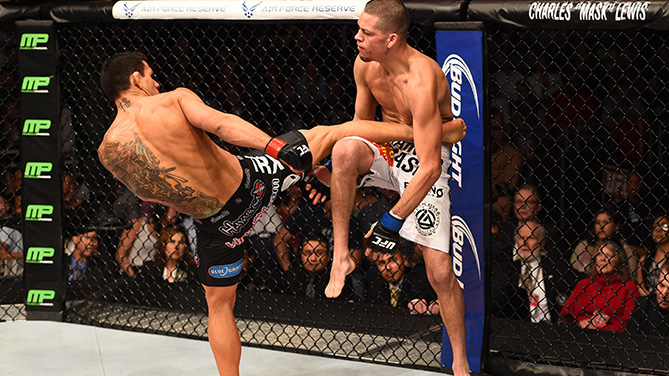 Lightweight contender Rafael dos Anjos was impressive in his August knockout of Benson Henderson, but his complete dismantling of Nate Diaz in Saturday's UFC Fight Night co-main event at US Airways Center took matters to a new level, with the Brazilian's shutout three-round decision giving him a strong argument for a shot at 155-pound champion Anthony Pettis.

Scores were 30-26 twice and 30-27 for dos Anjos, who has won eight of his last nine.

Dos Anjos was on target with his strikes from the start, with his thudding kicks rapidly causing damage to the Stockton native's right leg. With Less than two minutes left, Diaz decided to try his luck on the mat, nearly locking up dos Anjos' leg, but the Brazilian pulled free and resumed his ground and pound assault until the horn, capping off a huge round.

The leg kick assault by dos Anjos continued in round two, and Diaz was visibly limping. In the second minute, dos Anjos moved his strikes upstairs, cutting Diaz over the left eye, and he then picked up a takedown, where ground strikes were now on the menu. With two minutes left, the bloodied Diaz got to his feet, still defiant, and the Octagonside physician was brought in to check the cut. After getting the all clear, the fight resumed, but nothing changed for Diaz, who took more leg kicks before getting dropped with a front kick to the body just before the end of the frame.

Diaz' fighting spirit wouldn't wane, and he came out for the third round throwing kicks with his banged up leg. Dos Anjos responded with a takedown and more ground strikes. Diaz kept fighting – and talking – but dos Anjos had the last word, flurrying furiously until the bout's conclusion.

Dos Anjos moves to 23-7 with the win; Diaz, who was fighting for the first time since November of 2013, falls to 18-10.
OVEREEM vs. STRUVE

Dutch heavyweight contender Stefan Struve made his return to the Octagon for the first time since March of 2013, but despite that positive development, the good news ended there for the "Skyscraper," as Alistair Overeem got back in the win column after a September loss to Ben Rothwell, knocking Struve out in the opening round.

If there's anyone who can dwarf Alistair Overeem, it's the 6-foot-11 ½ Struve, and "The Reem" understandably had trouble closing the distance until he scored a takedown with a little over three minutes left. Overeem got a few hard shots in, but then the action stalled for a bit. Suddenly though, the former K-1 champion upped his pace, rocking Struve with his ground strikes. After a series of unanswered punches, referee John McCarthy intervened, stopping the fight 4:13 into the round.

With the win, Overeem moves to 38-14 with 1 NC; Struve falls to 29-7.

MITRIONE vs. GONZAGA

In the main card opener, Matt Mitrione scored an important victory for his future heavyweight title hopes, knocking out perennial contender Gabriel Gonzaga in the first round.

Avoiding a touch of gloves with Gonzaga, Mitrione wanted to get down to business immediately, and after taking some time to find his range, he struck, dropping the Brazilian with a short left to the jaw. Gonzaga immediately covered up as Mitrione attacked, but it was to no avail, with a final right hand bringing in referee Herb Dean to halt the bout at the 1:59 mark.

Mitrione ups his record to 9-3 with the win; Gonzaga falls to 16-9