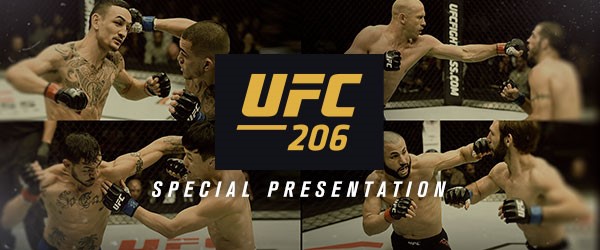 Las Vegas – As one of the best events of the year, UFC® 206: HOLLOWAY vs. PETTIS turned into an instant classic featuring two Knockout of the Year candidates, a Fight of the Year and a new champion in Max Holloway being crowned. UFC® and FOX will give fans the chance to relive the action from Toronto when a special two-hour version of UFC 206 is re-aired on Saturday, December 24 at 8 p.m. ET / 8 p.m. PT on FOX.
With the support of our cable, satellite and broadcast partners UFC will showcase four of the event's best fights just two weeks after the live pay-per-view, as a Christmas Eve gift from President Dana White.
Visit the UFC® Press Portal for information and content to support your UFC coverage.