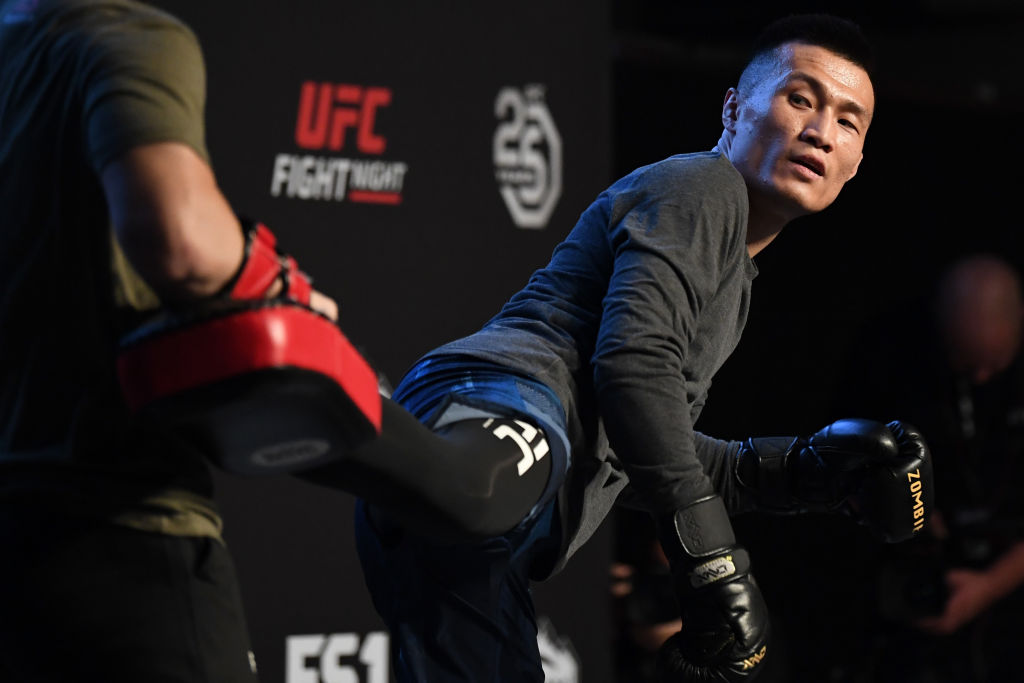 As Chan Sung Jung watched his protégé,
Jinsoo Son
, compete in the Octagon for the first time against
Petr Yan
in September, it was almost as if "The Korean Zombie" was feeling every punch and kick thrown over 15 frantic minutes of action.
"Rather than being excited, I was really overwhelmed at the thought of having a fighter that I trained from scratch being in the Octagon," said Jung, who didn't have to worry about his fighter being able to handle himself under the bright lights, as if delivered a Zombie-esque performance before losing a decision to the hot prospect from Russia.
Son did his coach proud. That didn't ease Jung's nerves, though.
"It's a different nervous feeling that I get when I see my fighters fighting," he said. "I feel more of a responsibility if I don't see something and then, as a consequence, my fighter makes a mistake."
Live from Open Workouts!

@KoreanZombieMMA returns at #UFCDenver! pic.twitter.com/HsYUZ7mulx

— UFC (@ufc) November 8, 2018
Saturday night, there will be the usual pre-fight jitters, but this time, it's Jung doing the fighting, and he can't wait until he gets to throw hands with
Yair Rodriguez
in the main event of UFC Denver.
"There is a bit of nervousness there, but because I can do whatever I want, I feel less of a burden," he said.
There is pressure, if only because South Korea's finest has put it on himself with a 4-1 UFC record that includes five bonuses garnered in the course of those four wins. In other words, fans expect more of the same in every fight from the 31-year-old, and so does the UFC, hence his placement in the main event of the promotion's 25th anniversary event.
"Even when I'm not in the main event, I still feel that pressure, but I try my best not to feel it," said Jung, making his first walk to the Octagon since a February 2017 knockout of Dennis Bermudez that earned Performance of the Night honors. Since then, he's been sidelined by injury, and outside of a title fight loss to Jose Aldo in 2013, his toughest opponents have been his own body and the two years of mandatory military service back home that put him out of action from 2014 to 2016.
Yet as soon as he got healthy after this latest stretch on the IR, he was put into action, originally against former lightweight boss
Frankie Edgar
. When Edgar was forced out due to injury, Rodriguez jumped in, and while the Mexican up and comer isn't as big a name as Edgar, this fight may be an even better style matchup for the Zombie.
"Although Frankie is way up in the rankings, I don't believe Yair is any lower in terms of skill," said Jung, who is the quintessential sportsman in that he respects his opponents, doesn't talk trash, and when it's time to compete, he's all in. That's quite a resume to own, but he's not bragging.
"I feel very modest about it," he said. "I'm thankful to the people who have allowed me to come up to where I am right now – all the fans and all the people in the UFC."
On Saturday night, expect him to deliver again. But the big question is, will we see him more often in 2019 for maybe three fights?
He laughs.
"I'll try."