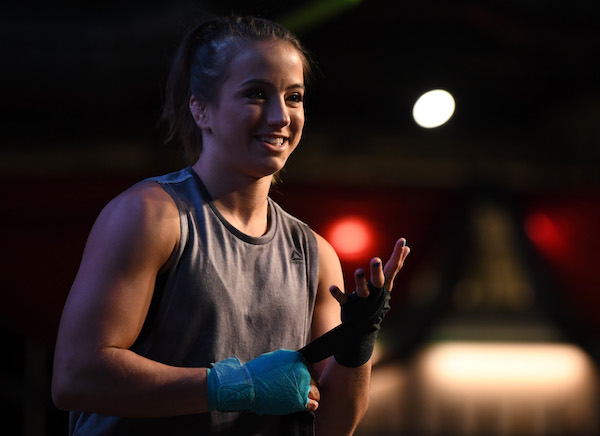 Maycee Barber is texting her father, trying to decide if Bruce Buffer should say she's fighting out of Fort Collins, CO, where she's from, or Denver, CO where she currently resides. She's in a lighthearted, laughing, mood that stands in contrast to many of her fellow Fight Night Denver peers that are wrestling with the grouchiness of weight cutting and media obligations. Barber shrugs.
"I know there's a lot of fighters who go through the rollercoaster of emotions (during fight week), nerves and stuff, and I've gotten a few of them. But I just have the giant sense of confidence from this last camp. It's partly because I'm fighting at home, and this is a huge opportunity. I'm just ready, you know?"
Confidence is a central word when you talk about Barber. Most of the MMA community was introduced to her with her dominant, patient victory over Jamie Colleen on Dana White's Tuesday Night Contender Series. Aside from her veteran-like control of the fight, it was her confidence, a nearly prophetic vision that she would win, that stood out to viewers and announcers alike.
"As long as you're doing everything you possibly can, there's no reason to doubt yourself."
Fast-forward nearly four months, and the strawweight is on the precipice of her UFC debut in front of a friendly hometown crowd. Unflappable in the midst of fight week, she seems as if she's been doing this forever.
"I'm just trying to enjoy the process. I'm enjoying it all. I expected to do interviews. I expected to do pictures. It's what the fans want to see. The more you enjoy the process, the easier it goes. I'm just barely touching the surface of it. I don't even know what it's like yet to be in the Conor McGregor status of having 50 people pulling at your shoulder, but I feel like as long as I continue to enjoy the process it's not going to be a big deal."
Her ease is not without good cause.
The debut!

Denver's own @MayceeBarber introduces herself to the UFC faithful. #UFCDenver pic.twitter.com/XSkpNw1m3h

— UFC (@ufc) November 8, 2018
"The past eight or nine weeks have been some of the best weeks of my life, in terms of training especially," she explains of her time with Marc Montoya at Factory X Muay Thai. "The confidence comes from overall knowing how hard we work."
Barber has made no secret of her goal to be the youngest champ in UFC history, which at age 20, gives her about three years to best the Jon Jones' record. Assuming she stays healthy, she envisions three to four fights per year. She won't even rule out five.
"If I'm healthy, I want to fight. If you're in the gym training and sparring, the only thing you're not doing is getting paid for it."
Thrilled to meet fellow Fort Collins alum @MayceeBarber this week. If she can ever figure out how to bottle and sell that confidence of hers, I promise I will be the first in line to buy it. https://t.co/6dCUSsyGVx #UFCDenver pic.twitter.com/wADyFT0QFZ

— Steve Latrell UFC (@TheUFSteve) November 9, 2018
That work will begin Saturday against another newcomer, Hanah Cifers.
"You can expect a good fight with a good finish," she says matter-of-factly, as if the fight had already happened.
Although teeming with certainty, this particular moment is not lost on Barber.
"I expected to be in the UFC, and that's exactly what I set my goals for. But I feel so blessed to not only be making my debut at home, but also at the birthplace of where the UFC started. 25 years ago…that was five years before I was even born. Now I get to start my career in the UFC where it all began."
You can watch Maycee Barber make her UFC debut against Hanah Cifers Saturday 10pm/7pm ETPT on FS1. Prelims get underway at 8pm/5pm ETPT.
Steve Latrell is a writer and producer for UFC.com. Follow him on Twitter @TheUFSteve