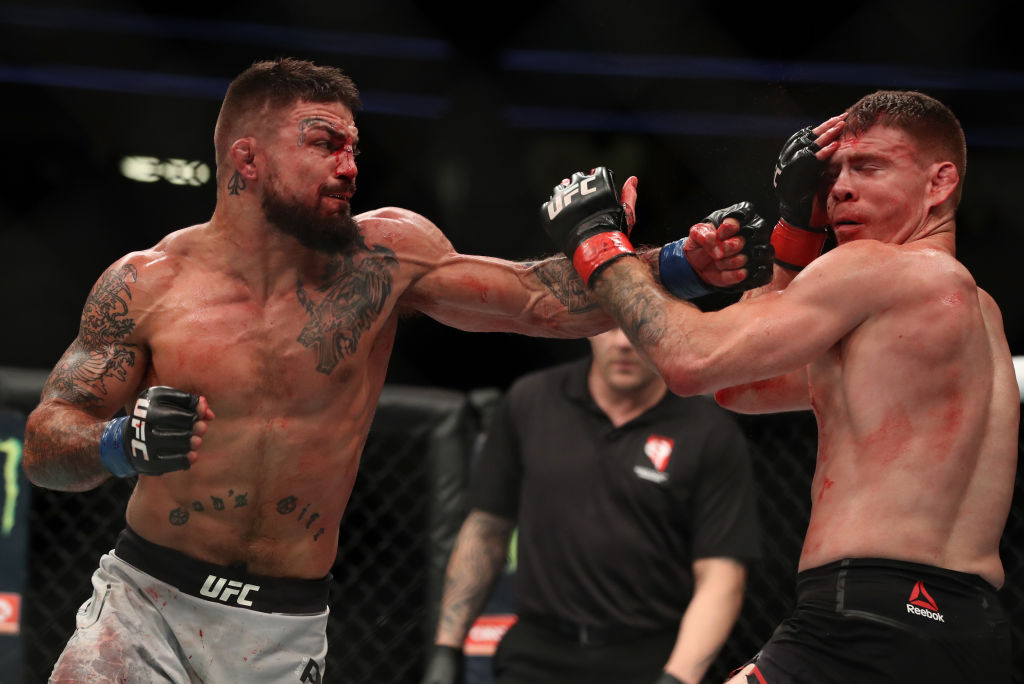 Six months into his time at Jackson-Wink MMA, Mike Perry couldn't be happier.
The flamboyant fighter decamped from his Florida home for the Albuquerque, New Mexico outpost two months prior to UFC 226, where he was initially scheduled to face Yancy Medeiros before injuries and reshuffling landed him in the cage with Paul Felder.
"I made the move because going to train at some of the best gyms in the world was always something I wanted to do," says Perry, explaining his decision to relocate. "I knew Jackson-Wink because of the great fighter Jon "Bones" Jones and I was like, 'If I want to be like Jon 'Bones' Jones, I'm sure they can teach me some of his tricks and I can find a way to use them.'
"Then I ran into "Frank the Tank" and it was just meant to be. We (collaborated) pretty well and after the first two months, I won that fight against a great, great fighter in Paul Felder."
"Frank the Tank" is former Ultimate Fighter contestant Frank Lester, a middleweight bruiser who transitioned to coaching and whom Perry identifies as a kindred spirit. The duo immediately bonded over their shared affinity for body art, shoes and punching people in the face really hard, and even within that short initial time working together, the improvements in Perry's approach were noticeable.
Reminder for the morning. How many pull check counter hooks can I demonstrate. . . 10,000 #SmallDetails

— Platinum Mike Perry (@PlatinumPerry) October 30, 2018
Entering on a two-fight skid, the 27-year-old finisher showed more poise and composure in his bout with Felder, waiting for openings to present themselves and letting big shots come to him rather than swinging for the fences and trying to force things. It was a more refined version of the ultra-aggressive, powerhouse style that has turned Perry into a cult favorite over the course of his two years on the UFC roster and one that he hopes will help lead him to great heights in the years to come.
"We're both tatted up and we like shoes," he says of Lester, "but he's a grown man who has been to war — actual war — as well as in fighting. There's a mindset there that I have never been able to learn because I didn't go to the military and he's gotten to show me and tell me some stories. It's a totally different mindset. It's a killer mindset. Plus, he holds mitts well.
"I was always looking for a guy who was more like me, who understood the savage attitude," continues Perry, who sports a 12-3 record overall with all but one of his victories coming by way of knockout. "You can forget that savage attitude when you're living good and eating good and everybody is happy to see you, they're fans — you forget how you start with all this anger and why you started to fight and so he reminds me of that and keeps me on track."
View this post on Instagram
After a strong showing in his first bout since connecting with Lester and becoming a part of the Jackson-Wink Team, Perry is promising an even better performance in his second appearance this weekend against a fighter with close ties to the team Perry now represents.
"I'm way better, way more comfortable with all the things that we were trying to do in the Felder fight ," says Perry, who faces Donald "Cowboy" Cerrone in the co-main event of this weekend's 25th Anniversary show at Pepsi Center in Denver, Colorado. "I don't think "Cowboy" Cerrone is going to move as well as Felder did, including the fact that Felder broke his arm, which made him move more.
"He would have been more down to get into a fight with me in the middle of the Octagon had he not broken that arm on my head — or had my head not broken his arm."
This is a fight Perry sought out and when it was booked, it caused a schism within the high-level Albuquerque gym.
After years of splitting time between training in town and logging hours in the gym he built from scratch at his BMF Ranch in nearby Edgewood, Cerrone officially parted ways with his long-time team, with a handful of other tenured members of the Jackson-Wink ranks following suit in the last several weeks.
Related - UFC Denver: Fight by Fight
For Perry, pursuing the fight with Cerrone wasn't about causing friction with the gym and being the catalyst for a series of changes. Instead, it was about taking aim at an established veteran with an exciting style and trying to take his place in the pecking order heading into 2019 and beyond.
"He's got all the attention and a bunch of fans because he's fought hard and put on some great shows over the years, but it's my turn," says Perry, breaking down why he pushed for the bout with Cerrone, who is tied with Georges St-Pierre and Michael Bisping for the most wins in UFC history with 20. "You've got to pass the torch at some point. I'm here to come pick up the torch, make my way towards the title shot and maybe do some things he was never able to do.
"We're also talking about a couple years down the road from now, maybe me being someone fighting for the most wins in UFC history," he adds. "I'm almost 10-fights deep in two years. In two more years, we'll see if I can get up to 20 wins or so."
Through the first two years of his UFC career, Perry has maintained a Cerrone-like pace, fighting eight times in his first two years on the roster, and he shows no sign of slowing down. But fighting regularly and climbing the list of all-time win leaders in UFC history are two different things and Perry is acutely aware that he's got work to do in order to stay active and consistently put up victories.
"I've just got to keep my body fresh, stay capable of pulling off these moves and fighting the way that I fight," he says. "I don't know what my body is going to be like in three years, but I'm going to assume that I'm going to be great. I'm going to be young, strong, healthy and hungry. I've just got to stay hungry.
"I have to stay in the game," he adds. "I have to win this fight on Saturday and the next fight after that. I've got to keep planning and training properly; the way that I've been doing since I met Frank and got over there to Jackson-Wink."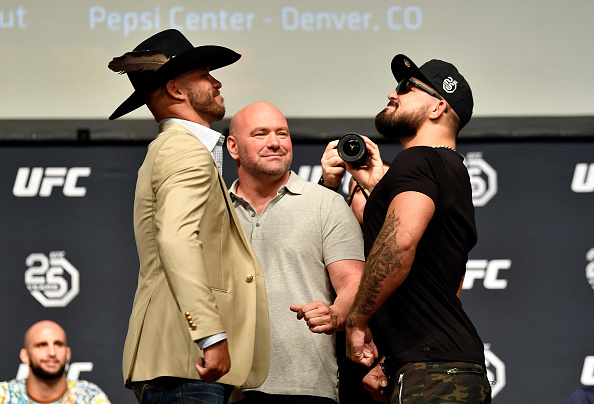 And that's precisely what he plans on doing when he steps into the Octagon with "Cowboy" this weekend.
"I'm going to bring these hands against "Cowboy" on Saturday night," says Perry. "These hands are going to be the difference-makers and if he holds his head up in the middle, I'm going to stay away from his kicks and then I'm going to get inside.
"I'm going to all of a sudden be right up in his face, cutting him up with elbows and uppercuts, left hooks and right hands, and he's going to go to sleep."